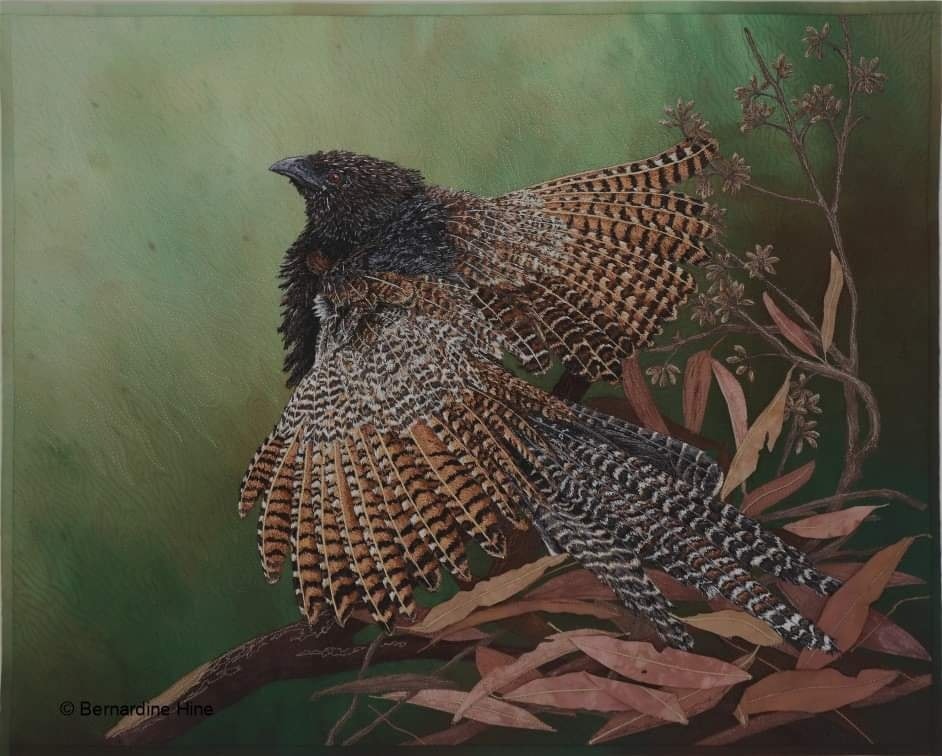 Mt Coot-tha Annual Exhibition 19-22nd October 2023 "Celebrating 40 years of Creativity and Conservation"
- People's Choice Award -
Bernardine Hine
"Hiding in Plain Sight" - Pheasant Coucal - Textiles and Machine Embroidery
---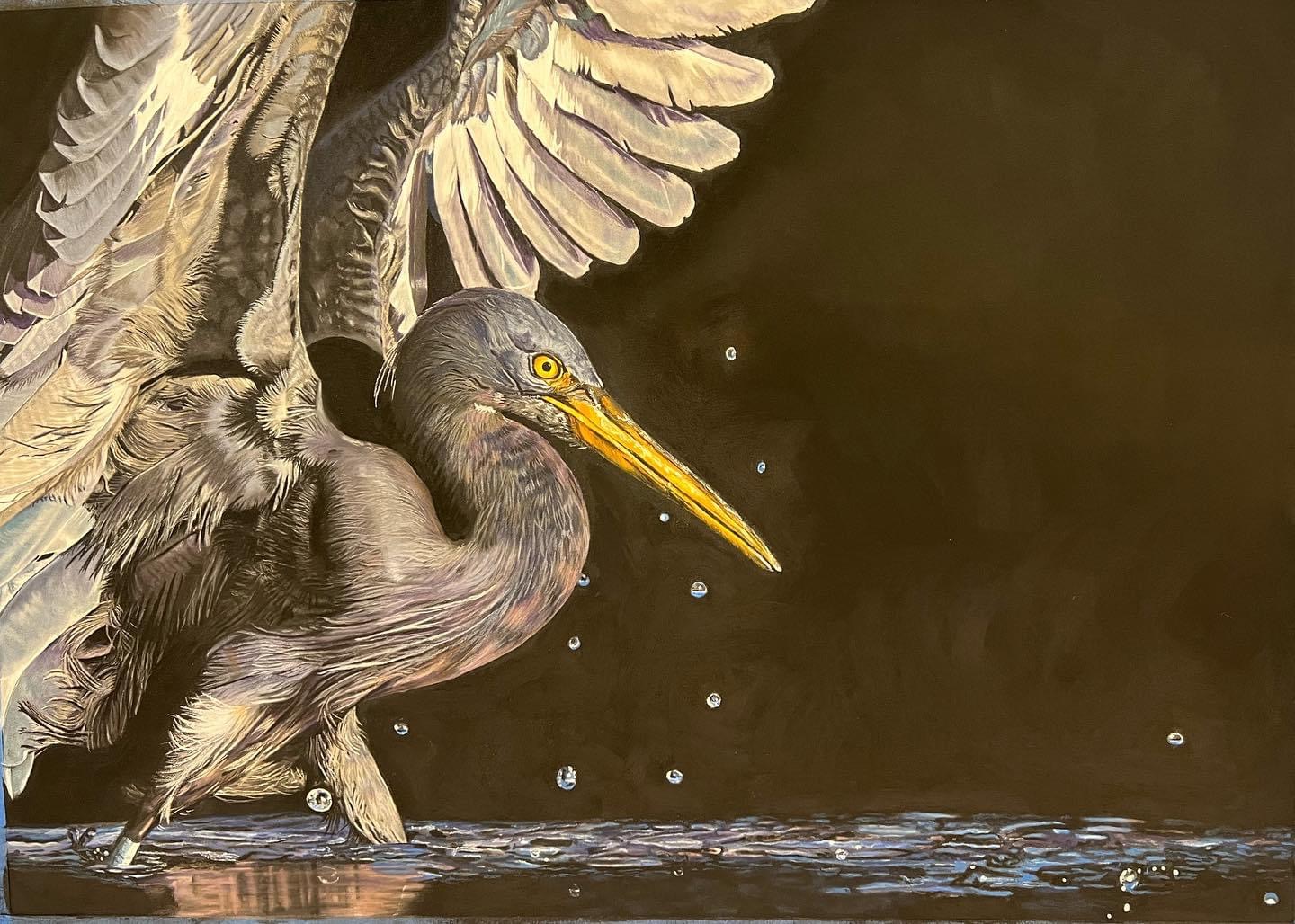 Mt Coot-tha Annual Exhibition 19-22nd October 2023 "Celebrating 40 years of Creativity and Conservation"
- Runner Up Best in Show and other awards -
Angela Parr and other members
Runner Up Best in Show: Angela Parr "Reef Raider" Reef Heron
Awards of Excellence:
1. Carol Clark "Night Watch" Black-shouldered Kite
2. Esther Horton "Wash your hands before dinner" Powerful Owl
3. Kristy-Ann Duffy "Everything pales in comparison" Pale-headed Rosellas
Highly Commended:
1. Eugene Rubuls "Treasure Island" Ocean scene
2. Catherine Carpenter "When the rains came" Galahs
3. Louise Saunders "Dendrobium discolor"
Commended:
1. Jan Lowe "Echidna foraging"
2. Bernardine Hine "Out and About" - White Cheeked Honeyeaters
3. Louise Saunders "Camera Shy" - Red Backed Fairy-wren
Special mention Awards
1. Trevor Irvine "Juvenile Platypus"
2. Nola Sindel "Rescued" Kangaroo Joey
3. Sandra Temple " In the pink" Tea Tree
Peoples Choice: Bernardine Hine " Hiding in plain Sight" Pheasant Coucal
Sponsors Choice Awards: We invited the sponsors or their representatives to select their personal favourites
Mt Cotton retreat: Neville Parmenter "I love you" Budgies
Nature Art Lab: Esther Horton "Just a jump to the left" Darter
Bienarté: Bernardine Hine "Hiding in plain Sight" Pheasant Coucal
Faber-Castell: Maureen See "Haven in a hoop pine" Zebra Finches
Winsor and Newton: Erica Siegel " Rainbow Bee-Eaters"
Currumbin Wildlife Sanctuary: Janna Pameijer " Eagle Eyes" Wedge-tailed Eagle
---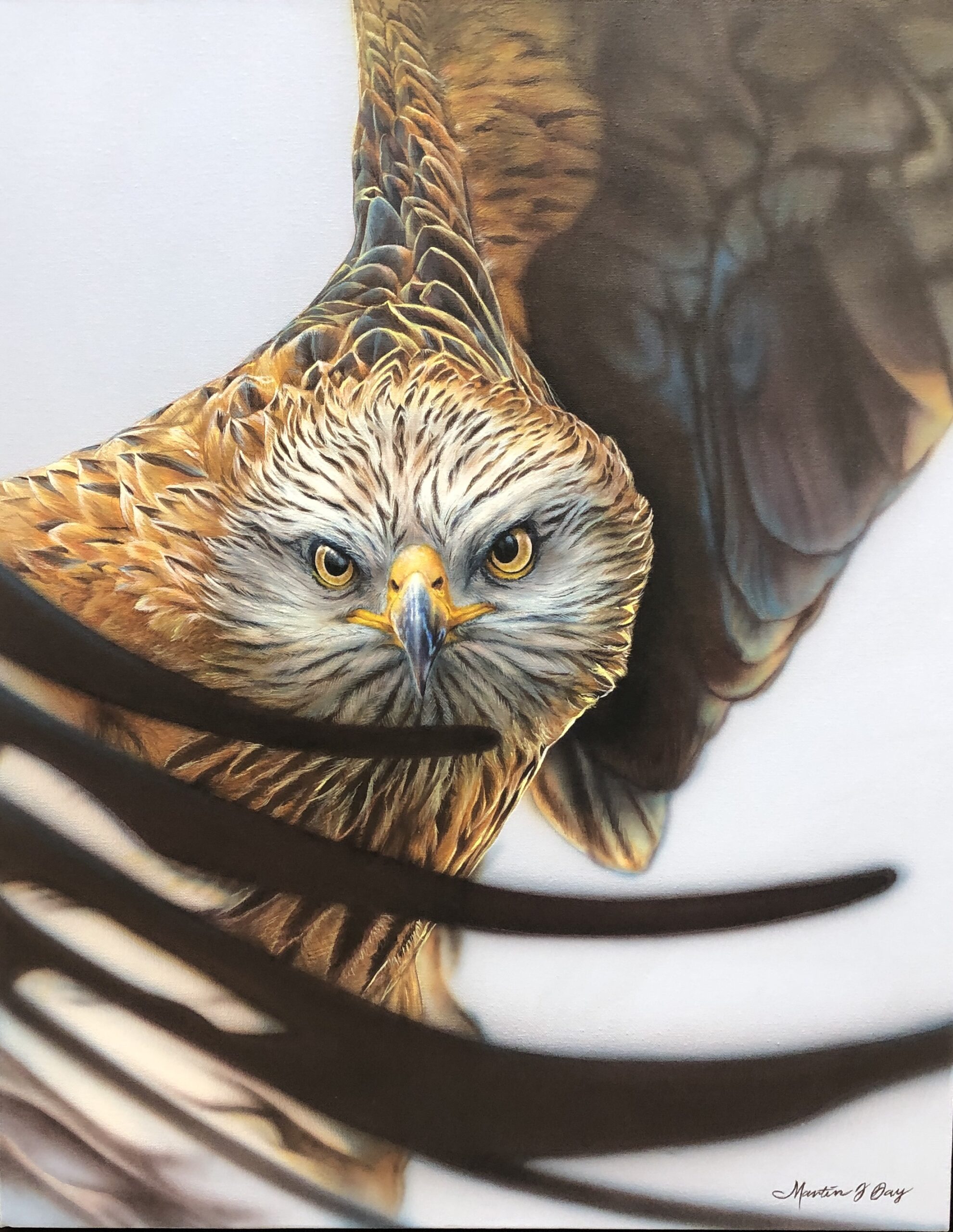 Mt Coot-tha Annual Exhibition 19-22nd October 2023 "Celebrating 40 years of Creativity and Conservation"
- Best in Show -
Martin Day
"A Routine Inversion" Red Kite in flight- Acrylic on Canvas
---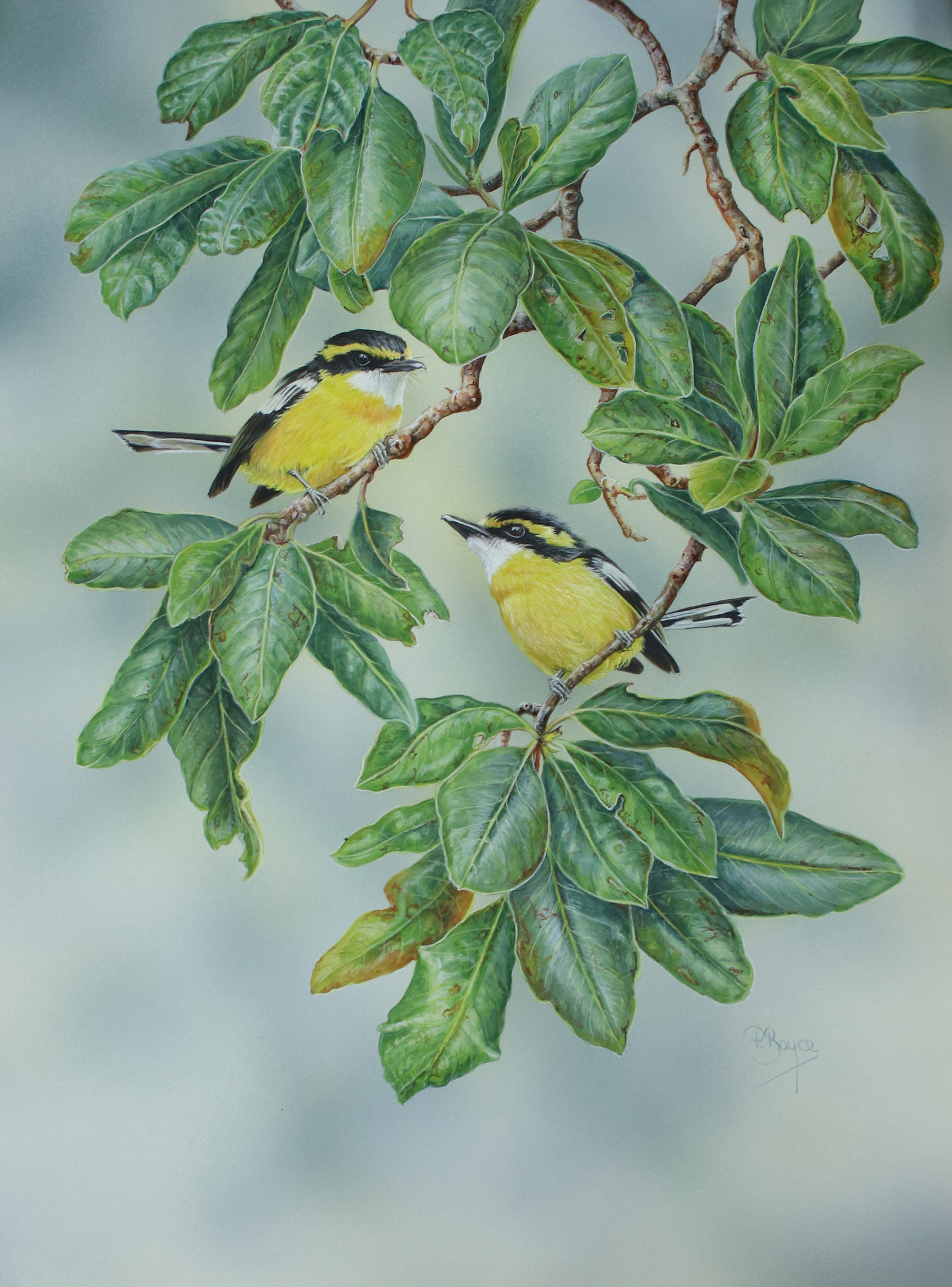 Mary Cairncross Scenic Reserve (Maleny) Exhibition "Celebrating 40 years of Nature in Art" 23rd June -2nd July 2023
- People's Choice Winner -
'Yellow-breasted Boatbills' in Gouache by Peta Boyce
---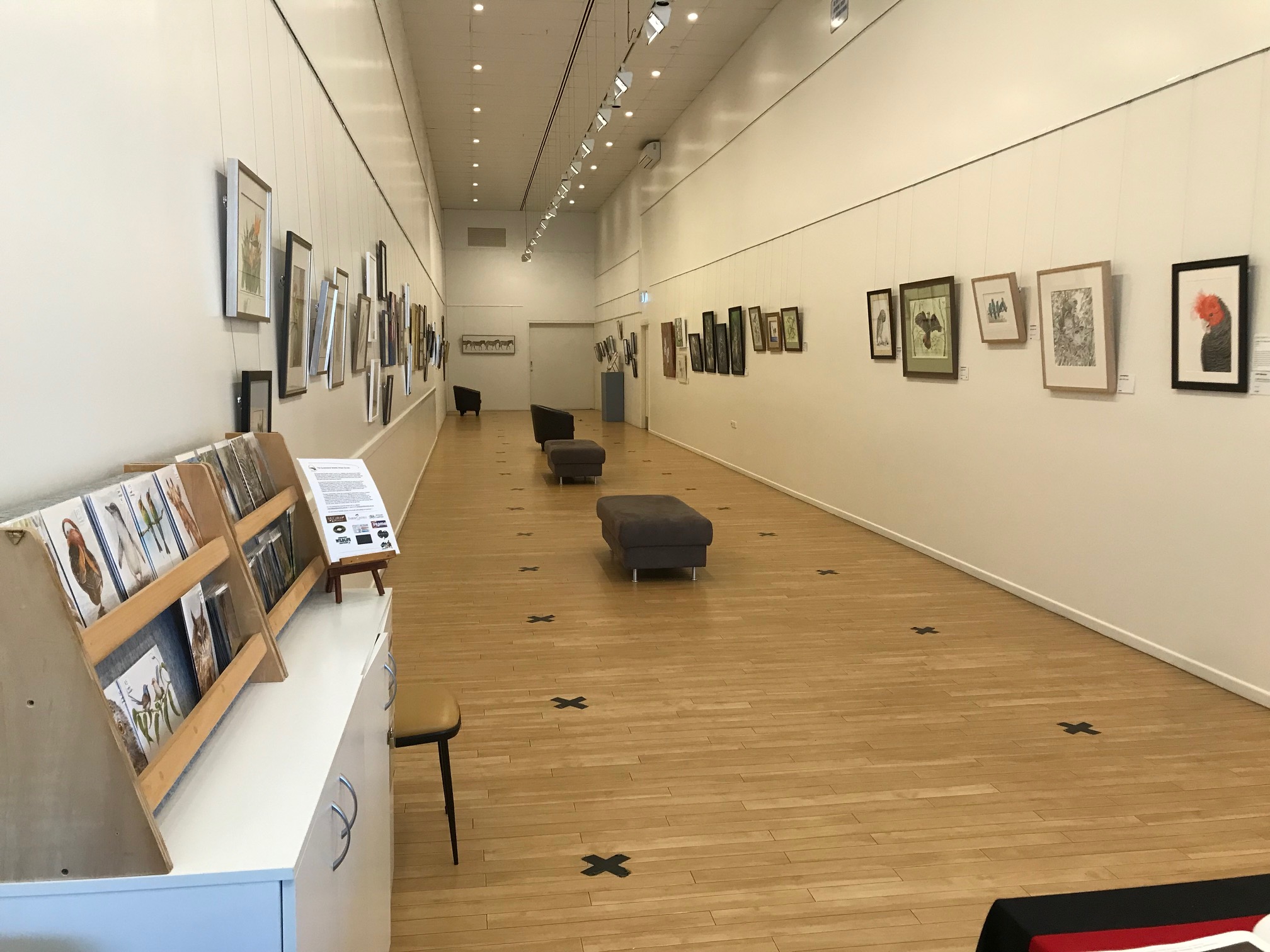 Boonah Regional Art Gallery Exhibition "Feather, Fur and Flowers- Mother Nature's Gifts"
- 15th March 2023- 12th May 2023 -
No prizes awarded
With its charming village atmosphere set against the mountains of South-east Queensland's Scenic Rim, Boonah was a fitting location for the society's exhibition "Feather, Fur and Flowers- Mother Nature's Gifts" which opened on March 15. The exhibition ran for two months at the Boonah Regional Art Gallery, a local government facility that opened in 2003 and is managed by the volunteers of the Boonah Arts Society.
The support for the exhibition from our members has been wonderful with twenty-two artists participating (including some from NSW and Victoria). Seventy artworks were on display depicting wildlife from across the world and employed a diverse range of media and artistic styles. The artwork was supported by a high-quality offering of merchandise from prints and cards to jewellery, tea towels, pouches and calendars.
The exhibition created quite a buzz locally as the region hosts a thriving artistic community, but many day trippers and weekend visitors who are drawn to Boonah were also dropping in to the gallery as they strolled the main street and were appreciating the beauty on display. The latter made up around half the gallery visitors, and include interstate and overseas visitors on a daily basis.
No prizes were awarded at this exhibition
---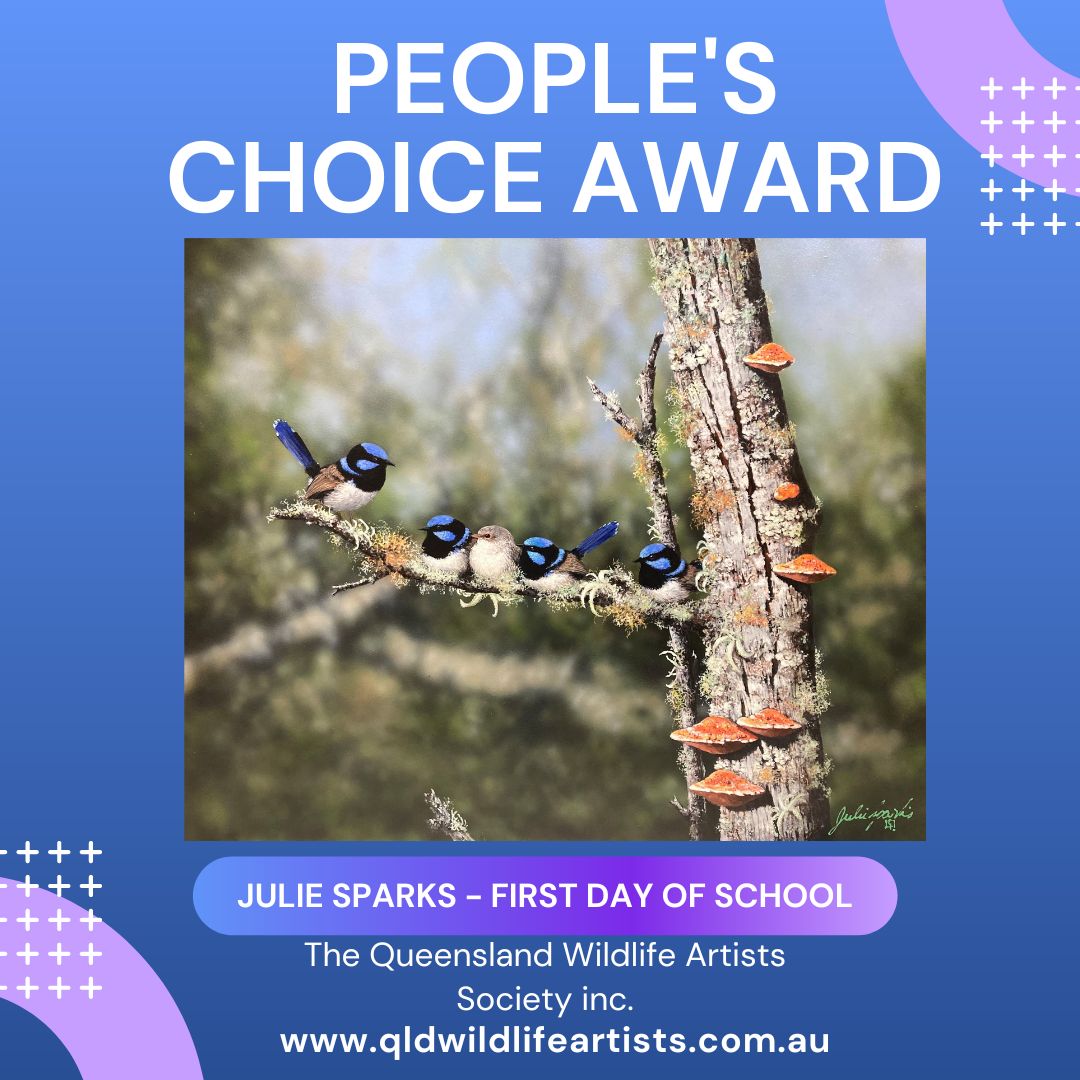 Mt Coot-tha Annual Exhibition "Eye catching Fauna and Flora" 3-6th November 2022
- Other Awards -
Highly Commended –
Garry Rogers, 'Mouths to feed', Graphite
Esther Horton, 'How many Chicks', Scratchboard
Janna Pameijer, 'Brisbane Possum', Bronze
Louise Saunders, 'Australian Coastal Wildflowers', Water-
colour & Gouache.
Commended –
Louise Saunders, 'Ecological Decomposers', Watercolour
Ji Qui, 'Goodfellows Tree Kangaroo', Gouache
Sandra Temple, 'Confusion', Pastel
Maureen See, 'A Myriad of Greens', Juvenile King Parrot,
colour pencil.
Junior Prize –
Thea-Bella Taylor, for a great portrait of a Brush Turkey,
'Beauty Of Ancient Origins', Gouache.
Peoples Choice Award: Julie Sparks "First day of school"
---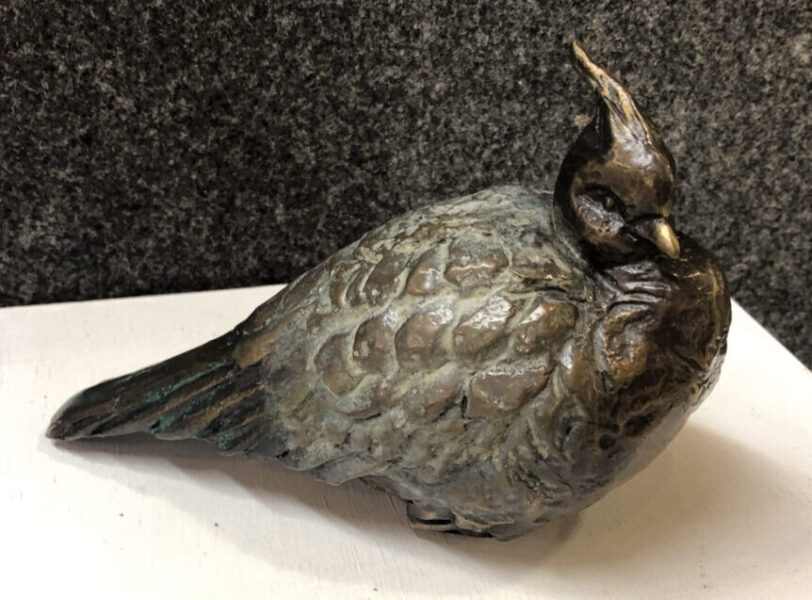 Mt Coot-tha Annual Exhibition "Eye catching Fauna and Flora" 3-6th November 2022
- Runner up Best in Show -
Janna Pameijer, Crested Pigeon, Bronze
---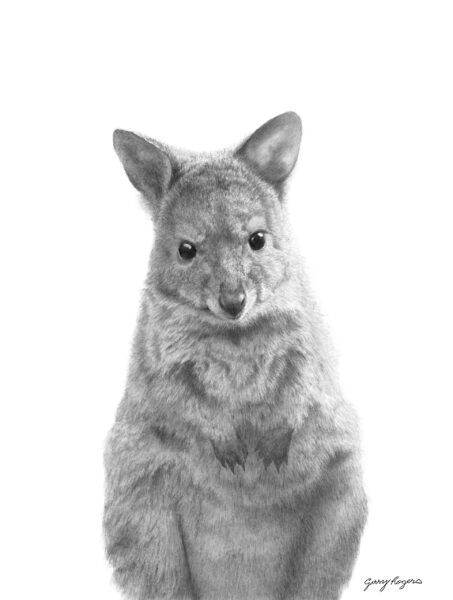 Mt Coot-tha Annual Exhibition "Eye catching Fauna and Flora" 3-6th November 2022
- Best in Show -
Garry Rogers, 'Neither Am I A Mouse', Graphite
---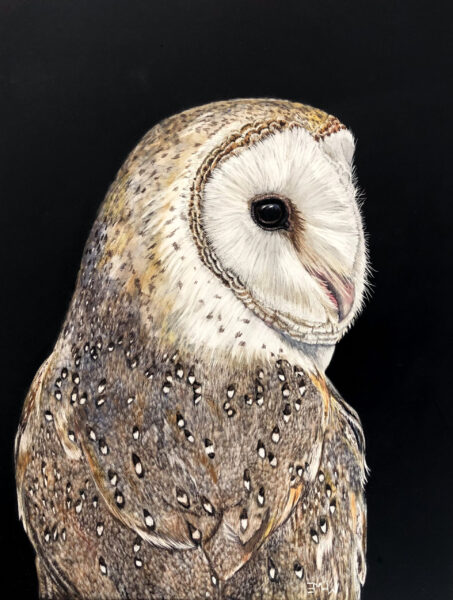 Mary Cairncross Scenic Reserve (Maleny) Exhibition "The Natural Wonders of the Australian Rainforest" 30th June – 10th July 2022
- Peoples Choice Winner -
"On the Lookout" – Eastern Barn Owl, Scratchboard with mixed media by Esther Horton
---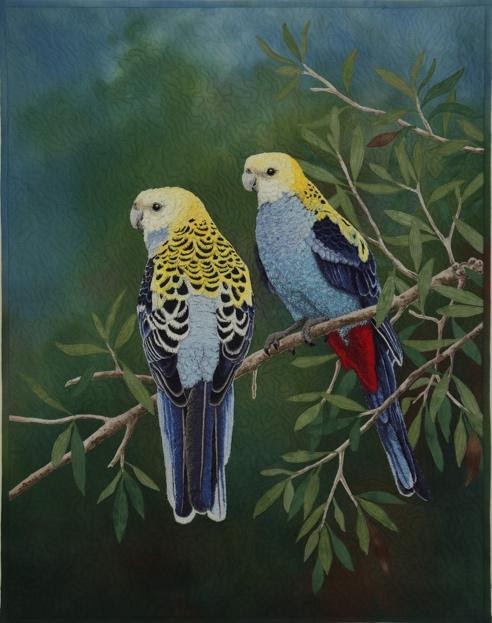 Logan Art Gallery Exhibition "International Wildlife in Art 2022" 6th May-11th June 2022
- Other Awards -
Best Australian Wildlife – Esther Horton 'Just a Jump to the Left', Australian Darter
Runner Up Australian Wildlife – Louise Saunders 'Safe n Sound', Quolls, Sculpture
Best International Wildlife – Cathy Howie 'Sir Bill', Shoebill
Best Botanical and Fungi – Janet Matthews 'Ant Heaven' Purple Fungi
Best 3D – Janna Pameijer 'Flippin Platypus', Bronze sculpture
Best New Member – Carol Clark 'Sundown' Corellas
People's choice award – Bernardine Hine "Garden Visitors" -Pale-headed Rosellas
---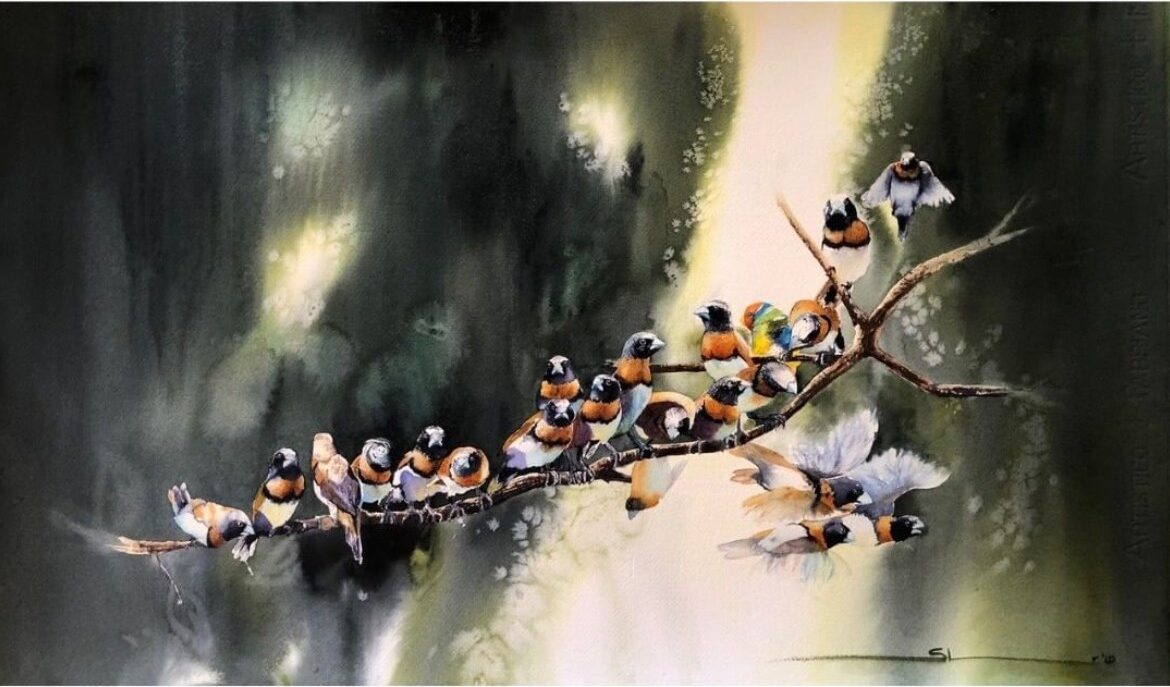 Logan Art Gallery Exhibition "International Wildlife in Art 2022" 6th May-11th June 2022
- Best in Show -
Sandi Lear 'A Feather', Chestnut-breasted Mannikins
---