Welcome to the official website of the Queensland Wildlife Artists Society (QWASI)
Society Objectives
Pursue excellence in Wildlife Art (being both fauna and flora).
Embrace both classical and innovative approaches to Wildlife Art.
Encourage membership to engage with their subject matter and the environment in order to represent the animals form, colour and behaviour accurately.
Engage the general public and to educate them through art, on the importance of preserving our unique natural heritage.
Assist young and emerging artists to achieve their potential with access to workshops, talks and demonstrations in Wildlife Art by leading artists.
Organize environmentally themed exhibitions to support conservation and to increase awareness of species and habitat, covering a wide spectrum of flora and fauna from Australia and around the world.
Generate career support, professional development opportunities and to facilitate art sales and commissions for artist members.
Liaise with other relevant organizations with like interests.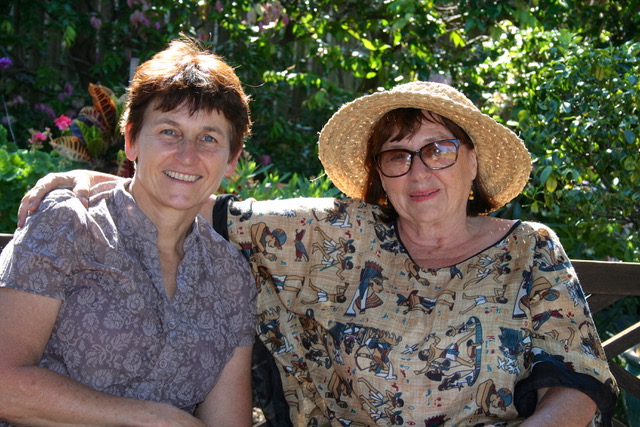 QWASI Founding members in 1983 and still QWASI Life Members: Janna Pameijer Left and Jan Jorgensen Right
Membership
We welcome new members whose talents would mesh well with the Society. If you are a wildlife artist who is passionate about depicting nature in their art or a newly emerging artist interested in fostering this interest in subject matter with the help of more experienced mentors, you may consider applying to this not-for-profit organization.
As a group we work together to promote our work, participate in members' only exhibitions and at the same time promoting our conservation and environmental message through art.
While we are a not-for-profit incorporation staffed by volunteers, we have expenses that are shared among the members through our membership fees, exhibition entry fees and commission on sold art works.
Through your membership, you will:
Be contributing to the QWASI mission of Education through Art.
Feel the prestige of being part of Australia's only Wildlife Artists Society.
Be eligible to enter QWASI exhibitions which are open to members only.
Have full representation on the official QWASI website which is updated regularly. You will be asked to provide all the relevant materials for your page which is linked to your personal website and Social media pages.
Receive the QWASI newsletter which comes out every quarter by email. It contains up and coming exhibitions, member's art news, hints and tips, world art news, coming events and much more. There are regular email notifications to members also through Mailchimp as required.
Be able to inform us about exhibitions, news and events for inclusion in the newsletter.
Current Committee Members
President: Esther Horton
Vice-President: Maureen See
Treasurer: Bernardine Hine
Secretary: Janet Kampen
Exhibitions Coordinator: Vacant
Volunteer Coordinator: Maureen See
Webmaster: Cathy Howie, Esther Horton
Newsletter Editor: Jan Lowe
Catering Coordinator: Elizabeth Burnett
Social media Coordinator: Cathy Howie
Graphic Designer: Nadya Neklioudova