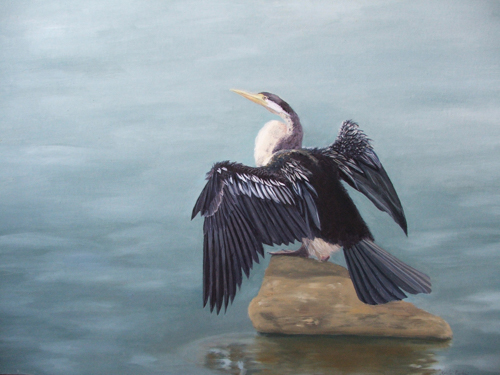 Natalie Barlow
Exhibiting Artist
Oil painting classes

Natalie Barlow was born in Geelong. After finishing school, she studied Commercial art at the Melbourne College of Decoration and in 1987 attained a TAFE certificate in Promotional Display and Advertising. Since then she has worked as a graphic artist in Melbourne, Coffs Harbour, Sydney and now the Sunshine Coast where she has lived for 12 years.
Her interest in art started while studying graphic design. She commenced art classes in 1986 at the local community centre and soon developed an interest in painting wildlife, particularly birds and landscapes.
Over the years Natalie has gained inspiration for her artwork by visiting wetland areas, including Kakadu as well as photographing gum tree scenes and birds in the garden and around Australia including overseas trips to India and Africa.
Natalie has exhibited in group and solo exhibitions and also has her paintings at Pomona Gallery.
These days Natalie teaches oil painting on her verandah which is wonderful to have the natural light and the peaceful sound of the birds in the background.
In 2015 and 2016 Natalie had articles in the Artist Palette Magazine issue 143 and Artist Back to Basics Magazine showing paintings and a demo of a gum tree scene.