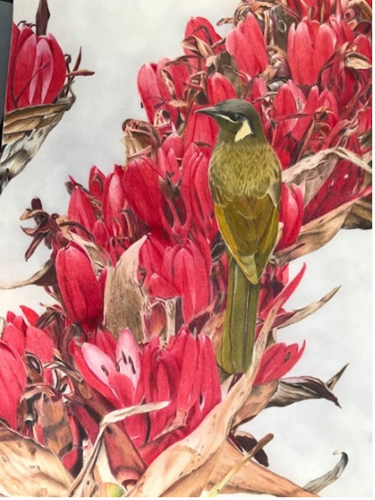 Maureen See
Exhibiting Artist
Location: Scenic Rim, SE Qld
Medium: Coloured Pencil and Graphite

Maureen has taken up artistic endeavours only in recent years. Having a lifelong passion for the Australian bush inherited from her mother, she has found it a natural step to seek to portray its wildlife through her drawings.
She enjoys creating works in coloured pencil because of their rich colour depth, the precise effects they can produce and their ease of application. She was introduced to this medium by chance through some inspiring instructional books by coloured pencil artists. The texts were mesmerising in the vibrancy and life they were able to create in their subjects and she was instantly motivated to explore the possibilities of this medium for herself.
A more recent move into also including graphite works has been a natural progression and she finds it exciting to learn more new techniques.
In particular, she has a strong interest in portraying birds, not only for their beauty but also for their distinct personalities which are often on display with careful observation.
Maureen was elected Vice-President of the Qld Wildlife Artists Society in 2023.