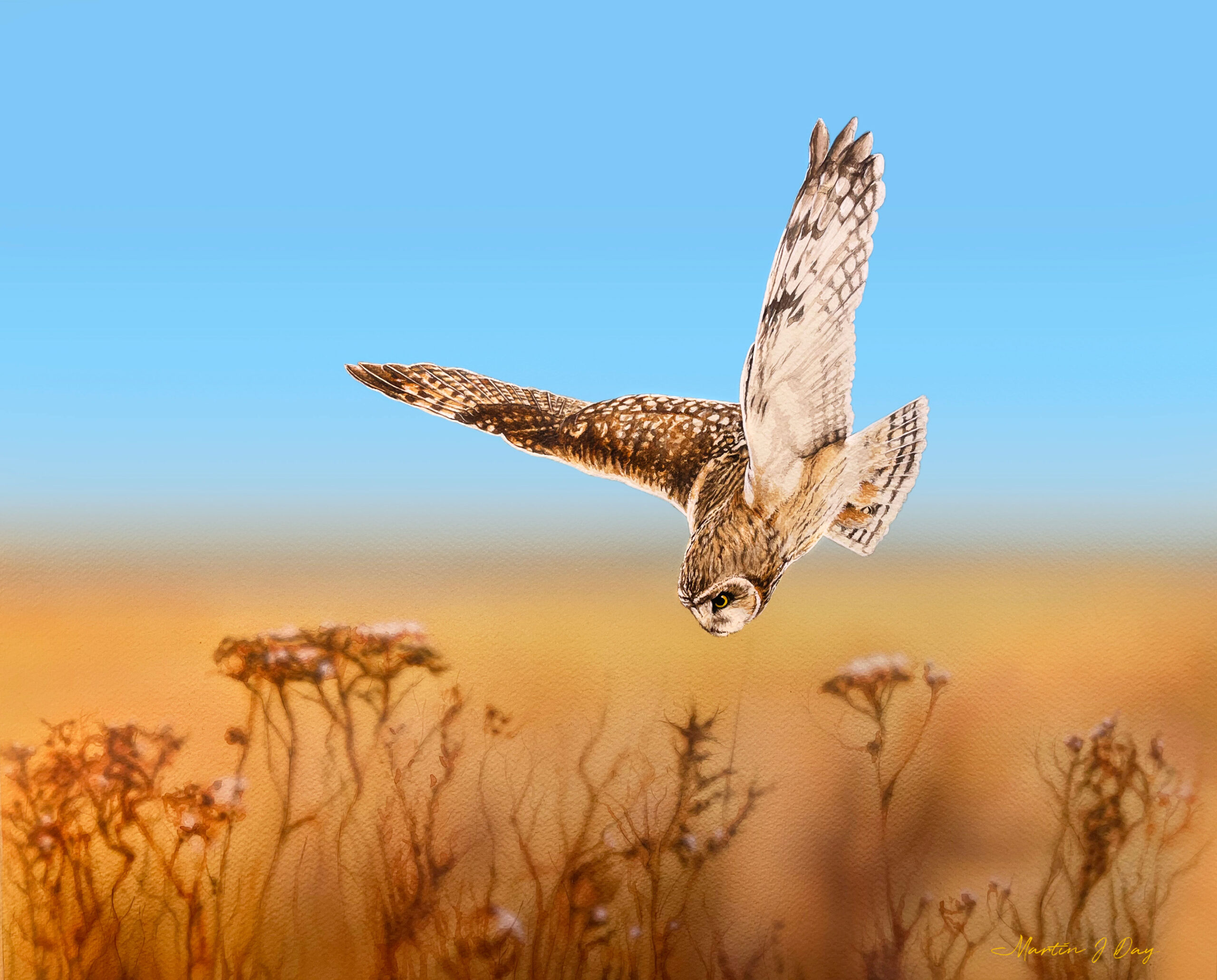 Martin Day
Exhibiting Artist
Location: Scenic Rim, "Kooralbyn"
Medium: Watercolour, Acrylic, Gouache
Will hold classes in 2024, Home Studio, Gallery coming soon
Commissions welcome
Martin is a self-styled, award-winning wildlife artist based in the picturesque Scenic Rim of South East Queensland, Australia. His artistic journey began early in his life, after achieving a diploma in Graphic Design and Illustration from the Adelaide Centre for the Arts in 1987.
Martin's innate talent for creating lifelike portraits quickly gained recognition, leading to a prestigious opportunity as an on-site artist representing Brisbane at World Expo '88. Impressed by his exceptional skill, Martin was commissioned to produce live pastel portraits and figure drawings at his boardwalk studio over a span of six months. This endeavour garnered him notoriety and acknowledgment from Brisbane's Lord Mayor, Sallyanne Atkinson.
Following this success, Martin established his portrait studio at McWhirters Fortitude Valley, where he continued to create commissioned portraits for both locals and visitors. Notably, his chair hosted esteemed clients such as country music icons Chad Morgan and Lee Conway.
Martin's artistic journey took a turn when he embarked on a career as a resident court artist and station illustrator for Channel 10 Brisbane, followed by a decade of professional illustration work for various Brisbane-based tourism companies. However, his passion for wildlife portraiture, particularly within the raptor division of the avian world, beckoned him.
In 1998, Martin entered his first completed acrylic painting, titled "Nesting Ground," depicting a bald eagle, in the Queensland Newspapers Ken Cowley Art Exhibition. The piece received a highly commended award, further affirming Martin's talent and dedication to his craft.
While Martin still enjoys working with pastels and graphite, he has developed a fondness for watercolour and acrylic mediums on paper and illustration boards. These mediums allow him to explore fine details, texture, and vibrant colours in his artwork.
A defining characteristic of Martin's style is the harmonious blend of lifelike realism, dynamic movement, and energy, with the surrounding elements intentionally kept relatively uncomplicated. This unique approach creates a captivating synergy in his pieces.
As Martin continues his artistic journey, he aims to nurture and evolve his concept of blending realism, movement, and energy within the captivating and rewarding world of wildlife art.
In January of 2023, Martin achieved further recognition for his talent and skill as he won the Talent Prize Award in the prestigious "Animal International Juried Art Contest" held in Los Angeles. His pastel drawing of a bald eagle, titled "Surveillant Poise." Martin also received the same award for his watercolour painting "Focus" in March. Both pieces garnered well-deserved acclaim in both "Animal Art" contests.
Martin's watercolour painting "An Imperial Position" was entered into Fusion Art's world-renowned 5th "Into the Wild" art exhibition in Missoula Montana where it received an "Honorable Mention Award". March 2023.
Wildlife conservation commitment
Martin is dedicated to playing his role in advancing the protection and conservation of wildlife including their habitats both in Australia and around the world. As a result of profits from artwork sold, he regularly donates directly to the Australia Zoo Wildlife Warrior initiative.