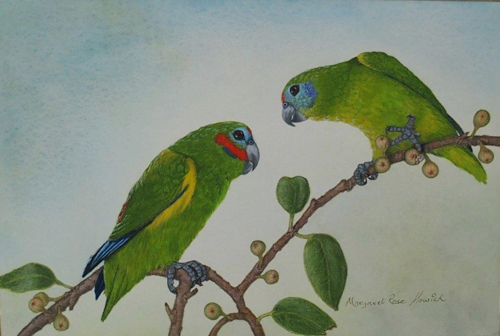 Margaret Rose Howick
Exhibiting Artist
I have always marvelled at the perfection that Mother Nature creates. I never tire of nature's intricate tapestry – tone, colour, texture, light and shade in everything I see. As a keen photographer, this allows me to focus on and capture the essence of the subject. It is from these images that I can inject nature, as I see it and feel it, into my paintings.
I hope to achieve in all my works such detail that will allow you to hear my birds sing their own unique song, my marsupials to look at you without fear or trepidation, my flowers to exude their own exciting colour and perfumes.
I do hope you are able to experience the multi-sensory outcome I try to achieve. I have certainly enjoyed painting them for you.
I began painting in 1985 studying with various tutors – colour & design, techniques using gouache, watercolour, charcoal, graphite and acrylic.
My preferred technique has been evolving for several years, that is, the art of building my subjects in three-dimensional water colour, then finishing with gouache and sometimes coloured pencil and ink. I always use 300gsm hot pressed paper for my watercolour paintings. More recently I have been trying to achieve different effects by experimenting with acrylic options.
I presented and sold my paintings at the Bunya Forest Gallery in the Bunya Mountains for 10 years. In 2015 I participated in an exhibition at The Dogwood Gallery in Miles Qld and in 2017 at the Lapunyah Art Gallery in Chinchilla Qld.
In 2018 I won the "People's Choice Award" gained at the International Nature in Art Exhibition held at the Logan Art Gallery in Brisbane. Currently I am a member of The Queensland Wildlife Artists Society Inc. and The Old SchoolHouse Art Gallery at Cleveland, Qld., where I have regular showings.
 MY PAINTINGS ARE ALSO AVAILABLE AS PRINTS