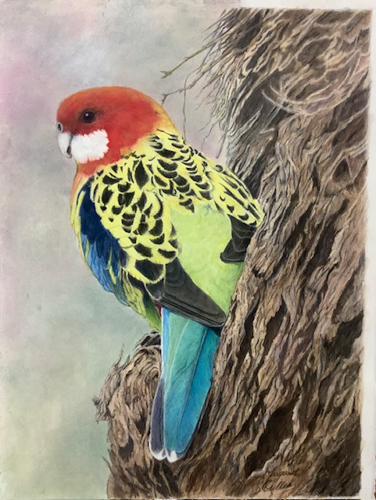 Margaret Cullen
Exhibiting Artist
Location: Brisbane
Commissions welcome
I grew up with art and advertising.
My interest in art wasn't piqued again until I volunteered as a teacher aide at my daughter's Preparatory school, where I helped some very talented teachers with their class display boards and running after-school craft groups. Working for some years as the Art teacher at an exclusive local Kindergarten in Jeddah brought out my long forgotten inherent drawing and painting abilities. The seasonally changed display boards I set up around various areas of the school and the displayed art produced by the children further expanded my knowledge and skills.
Although my hobbies included quilting, carving and decorating eggs, it wasn't until back in Brisbane when I saw a tiny advertisement in the Brisbane News about watercolour classes and, needing a challenge, I did finally learn to paint with this medium.
While watercolour is my favourite medium, I also use oil based Polychromos, watercolour pencils, graphite and acrylics to enhance vivid details to bring my images to life.
I love the many ways watercolours flow and while I draw and paint a wide variety of subjects, what has captured my interest and passion has been the variety of flora, native wildlife and colourful bird life of Australia.
I was accepted as a member of QWASI in 2019 and have since entered and sold some of my artworks at QWASI and local exhibitions.