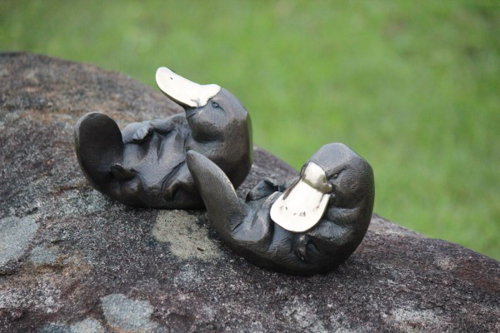 Janna Pameijer
Life Member
Location: Curramore, Sunshine Coast hinterland
Medium: Sculpture Clay and Bronze

Janna Pameijer is QWASI's founding member together with Jan Jorgensen in 1983. We are honoured to have both as QWASI life members and Janna still regularly exhibits with us.
Though I enjoy making sculptures of all kinds studying and creating sculptures of Australian animals has always been an important part of my repertoire. Studying creatures such as the ones that inhabit my surroundings gives me endless pleasure especially when I can transfer my delight into clay and bronze.
In Maleny I can sit by the Obi Obi and watch the platypus playing in the creek and certainly around my bush environment and garden in Curramore there are many more to interpret.  I've been sculpting since the late 70's and in 1981, with fellow artist Jan Jorgensen we established QWASI.
I am always appreciative of our native fauna and flora. The focus through art brings our unique wildlife so close to the viewer. I hope you can enjoy my pieces and feel their precious lives under your fingers as I have in expressing them.