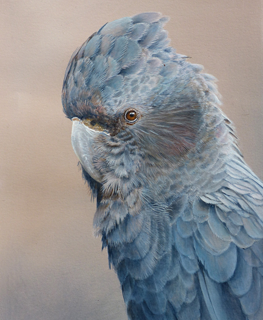 Gail Higgins
Life Member
Location: Glasshouse Mountains, Sunshine Coast
Medium: pastel, coloured pencil, graphite, acrylic

When her youngest child was in high school Gail was able to rekindle her love of painting and drawing, and soon developed a keen interest in painting wildlife, particularly birds. She finds bird behavior fascinating and travels widely to identify and observe them in the wild though much of her inspiration comes from her local area. She strives to capture the essence of the birds she paints – those particular characteristics which set that bird apart from others.
Gail has been a finalist in the Holmes Prize for Australian Bird Art every year since its inception. This competition is limited to 35 artists only and attracts entries from Australia's best bird artists. In 2018 she was awarded one of the runner-up awards for excellence.
A winner of many major awards, in Australia and overseas, Gail has had several demonstration articles published in Australian Artist, Artist Palette and Australian Birdkeeper magazines. In 2006 she was awarded Master Pastelist status with the Pastel Society of Australia.
This year her work has been included in Dr Penny Olsen's book, "Feather and Brush – A History of Australian Bird Art".
She has a Cert IV in Assessment and Workplace Training and taught from her own teaching studio for many years. During that time she tutored drawing and pastel workshops throughout eastern Australia and in the Northern Territory.
Though now retired Gail has conducted several workshops in her local area on the Sunshine Coast to help nurture the emerging art locally. She is now enjoying her time to travel and paint.
"Nature is always willing to enlighten – to come at us luminous and anew. We just have to be out there ready, in the places where the subtle miracles are forever waiting to enfold." — Raoul Slater