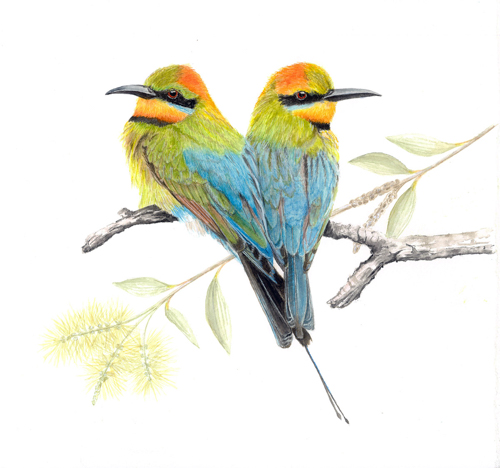 Erica Siegel
Exhibiting Artist
Medium: Watercolour

I have been drawing and painting most of my life attending various art classes and started painting birds after the bush next door was bulldozed and all the little birds disappeared.
My preferred medium is watercolour and when I joined the Yurara Art Society I exhibited at their Gallery and at the Redland Art Gallery but when I bought a camera to get reference photos for my paintings, rather than using other photographer's work with permission, photography took over. I became very involved in macro photography, specialising in Native Solitary Bees leading to several publications and painting was put to the side.
In the last 15 years I have travelled all over Australia and overseas photographing birds and other wildlife. I am very interested in conservation of the natural environment and am a long-term member of Birdlife Australia, a supporter of Bush Heritage Australia and Australian Wildlife Conservancy.
It was not until a few years ago that I went back to painting as bushwalking with heavy equipment to photograph birds became a little harder as I was getting older.  I became a member of the Queensland Wildlife Society, Yurara Art Society and joined the Wynnum – Manly Arts Council and exhibit at their various events.
I regularly have a stall at The Shire Clerk's Cottage Market held at the Bayside Leisure Centre Wynnum, where I sell some of my paintings, greeting cards and photographs.
You will find a gallery Fine Art – Watercolour Paintings dedicated to my paintings on my website