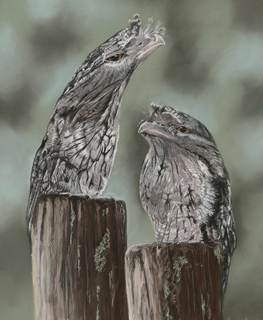 Cathy Howie
Exhibiting Artist
Cathy had a mix of a city and a country childhood, with fond memories of running around on the banks of Stradbroke Island, exploring nature and fishing with her family. While Cathy can remember always having paper and pen in hand it was not until adulthood that an interest in the fine arts developed.
During her time as a wildlife rescue volunteer, Cathy meet some amazing wildlife carers and vets and her knowledge of our local wildlife and their habitats increased. At the same time Cathy started art classes with Philip Farley and discovered her love of painting and drawing Australian wildlife.
Cathy gave up her wildlife rescue after starting a family and decided to further her interest of local fauna and flora through her paintings. Cathy enjoys painting in a variety of mediums especially acrylic and pastel. Cathy is constantly exploring other mediums and surfaces, and by attending a variety of workshops Cathy has developed her skills, learning from some amazing and passionate artists. Cathy enjoys paintings a variety of subjects, but Australian Flora and Fauna are her main passion.