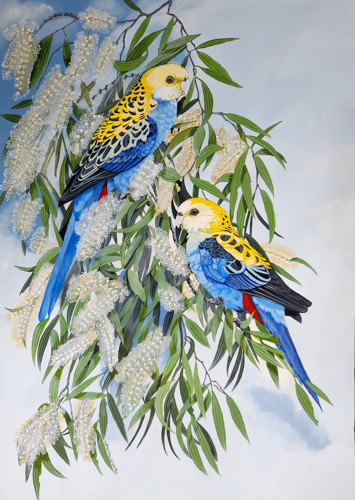 Catherine Carpenter
Exhibiting Artist
Commissions welcome
Catherine Carpenter was born in Cloncurry, Queensland in 1961. She is a self-taught artist and has been painting and drawing since she was very young.
Cathy works mainly in Gouache because she has found this the ideal medium to achieve the intricate detail in her delightful paintings. Cathy also loves to work in Pencil and in Ink as these mediums allow her to display her beautiful drawing skills and attention to detail. She admires many artists but has a special affiliation with works by Norman Lindsay, particularly the exquisite detail portrayed in his etchings, which she finds mesmerizing.
As a young girl, Cathy was never in one place for very long and moved intermittently every few years between Australia and Papua New Guinea. The time of her childhood that was spent in Australia brings very fond memories of being amongst eucalyptus trees and the scent of the bush. She also recalls being in and around shearing sheds and near horses, an animal she loves to draw. From her time living in Papua New Guinea, she was inspired to start painting in oil on whatever board she could find and spent many hours studying and observing the things around her that sparked her imagination, including the stunning Birds of Paradise, possums and colourful headdresses of the tribal people in and around the tropical forests of New Guinea.
Eventually Cathy moved back to Australia when she was 17 and soon after met her husband to be.
During the course of her life a number of interests have remained constant and precious to Cathy, including her love of fine art, caring for and being around Australia's beautiful wildlife, and her two sons whom she adores.
Cathy finds inspiration for her paintings in many places and sometimes in the simplest of things. She says: "Art is my passion. Inspiration is everywhere – from a walk outside amongst the Australian blossoms in my garden, the wildlife in the trees, the hang of a leaf, blooming spring flowers, the warmth and softness of the life that is all about us as "Nature's Gift". I hope I can share this with you through my art."
Exhibitions of Cathy's paintings have been very popular and for several years from 1983 she exhibited in the Wildlife Art Show at Brisbane City Hall. In 1996 Solo exhibition of wildlife art entitled "Night Moves" at Riverhouse Galleries in New Farm. In 2000 she was commissioned to create a large painting of Mermaids and Dolphins, which hung proudly in the well-known Mermaid Cafe at the Fish Bowl Hotel in Redcliffe. Her artwork was also featured in one of the colour catalogues for the Sunday Mail Art Show in Brisbane.
Cathy has won a number of prizes for her work. One of her paintings won the Redcliffe City Youth Award and one of her drawings entered into the Redcliffe Acquisitive Drawing Award still hangs in the Redcliffe Council's art collection. She has also been a winner several times of the Frank De Silva Annual Memorial Drawing Award, as well as being awarded First prizes in the painting and drawing sections of many regional art shows. Exhibits Tiffany Jones Fine Art Gallery, Buderim
Paintings by Cathy have sold Australia wide and overseas, with several pieces in private collections in Japan.
Finalist in the Holmes Art Prize for Excellence in Realistic Australian Bird Art in 2019, 2021 and 2022.