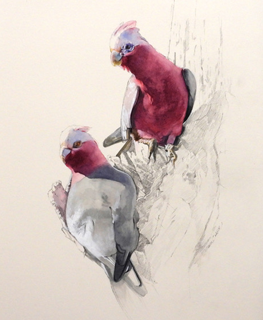 Carol Clark
Exhibiting Artist
Carol Clark grew up in Sydney, studying painting at the National Art School in Darlinghurst where her love of figure and portrait painting began. She then moved into the Graphic Art industry for some years establishing her own business in 1978.
Moving to the Sunshine Coast in 1998 Carol took up her brush again but this time, inspired the wonderful birdlife and natural bushland in Queensland she began working in watercolour painting birds and wildlife subjects.
Carol now paints full time. Her mediums of preference are oil and watercolour and her passion is for the classic works of the old masters and the impressionists.
Carol most recently completed a collection of bird illustrations for the publication 'The Magic of Mary Cairncross – A Celebration of Art and Nature'. The portrait of the late Dr Les Hall depicted in the beginning of this fully illustrated book was also painted by Carol.
The love of portraiture has continued through Carol's depiction of birdlife by presenting them to the viewer with their endless expressions and personalities.