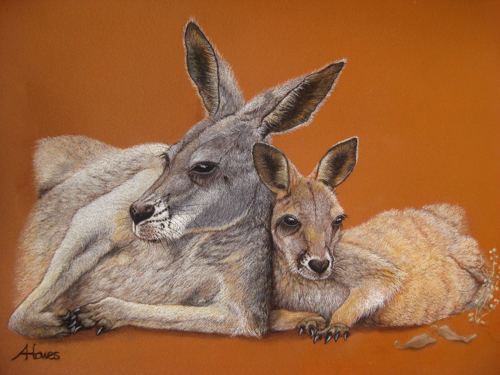 Annelise Howes
Exhibiting Artist
Annelise was born in Copenhagen and from a young age enjoyed drawing & painting, especially animals and birds. She married her Australian husband Overseas and came to settle in Queensland.
When she first arrived in her new homeland, Annelise was captivated by the unique fauna & flora of Australia, became a keen birdwatcher and started her career as a wildlife painter. She soon developed her colourful style and began winning awards and selling her artworks.
Annelise works from her own photos, sketches & observations gathered during 25 years of exploring remote Australia. She paints with oil, acrylic, pastel & watercolour.
Among her awards are a 1st prize at the Brisbane EKKA as well as several "Best Bird" and "Best in Show" and her works have sold both Interstate & Overseas. Annelise has featured in several art magazines as well as Australian Birdkeeper and most recently (May 2022) in Penny Olsen's beautiful book of Australian bird painters "Feather & Brush" volume 2.
Annelise supports various environmental organisations, especially Australian Wildlife Conservancy & Bush Heritage and over the years has volunteered as a "Go-Bush Guide" at Brisbane Forest N.P. (11 years), at Kumbartchoo (native seed collection & propagation) and at Eumundi Wildlife Rehabilitation Centre, caring for sick & injured wildlife.
Through her art, Annelise hopes to inspire people to care for Australia's wonderful wildlife & plants, many of which are listed as Vulnerable or Endangered.