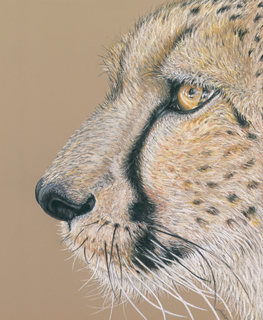 Amber Gillett
Exhibiting Artist
Amber is a self-taught artist who began drawing and painting during high school in her home town of Tolga, in Far North Queensland. During her years in school she was a regular entrant in the local shows & exhibitions receiving first place and champion art exhibitioner of a number of shows. As a result of her achievements Amber received a bursary to attend an arts degree, however, within 12 months she transferred to pursue her other aspiration in life, to be a veterinarian.
Amber's profession as a wildlife veterinarian has seen her complete a PhD, visit many places around the world, and work for many years at the Australia Zoo Wildlife Hospital treating thousands of native animals, but has left little time for artistic pursuits. After almost two decades, however, Amber's creative side resurfaced and her recent drawings reflect her career as a wildlife veterinarian. Most of Amber's subjects are native Australian animals that she has either personally treated as a vet, or has viewed as part of her research career. Other subjects include some of the African species she worked with during a period of time where she lived in South Africa.
Although her career as an artist is only in its infancy, Amber hopes to achieve similar success in her pursuit to educate people on the plight of our native fauna through her drawings as she has in her veterinary career, and has already had her artwork featured in an internationally published book called 'Koala', by Thames and Hudson.