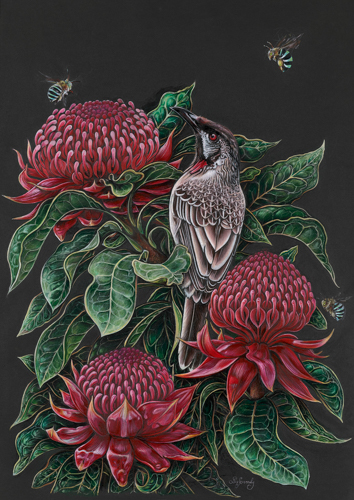 Lisa Kennedy
Exhibiting Artist
Location: Mudgee, NSW
Medium: Graphite, coloured pencil and mixed media

Lisa Kennedy is an interstate QWASI artist localised to the Mudgee region of NSW. Through her art practice, Lisa is passionate about documenting and depicting our native Australian birds and wildlife, aiming to both capture and convey the essence of the creatures that may someday be lost to us. Lisa works in a range of mediums such as graphite, coloured pencil and mixed media.  Her art both celebrates the existence of, and ultimately aims to inspire focus on the conservation of our Australian native creatures.
Originally hailing from Grafton NSW, Lisa spent large portions of her childhood on the QLD Sunshine Coast, where her fascination with wildlife was both inspired and fostered. Although a degree in Fine Arts was considered, she ultimately studied Veterinary Science at the University of Sydney. Despite this alternative career path, the act of creating continued to remain a resounding passion and essential undercurrent of her daily being. Following the completion of her studies, Lisa relocated to Mudgee, to work as a mixed practice veterinarian. As a veterinarian, she enjoyed countless opportunities to get up close and personal with Australian native birds and wildlife, and felt an incredible connection to them. A lot of her artworks are inspired by real life patients and first-hand animal encounters. Today, she is both a full-time mum and an artist, and is enjoying finding ways to continue creating in amidst the joyful chaos of motherhood.
Lisa has been a member of QWASI since 2022. She has exhibited her work both in multiple QWASI group exhibitions, as well as in other solo and group art exhibitions across NSW. Her work was selected as a Finalist for the prestigious Holmes Art Prize for Excellence in Realistic Bird art in 2022. She has also been selected as a Finalist in the 2023 WAMA Art Prize.